You've spent time recruiting, screening, hiring, on boarding, and training a brand new associate. Just to have them leave a few months later. Very few things can be more frustrating than consistent turnover. Below are some ideas we recommend in order to help retain your workforce. We hope you find some success with these ideas.
1. Inspire Your Team
What does inspiration mean to your organization? Here are some ideas to create engagement, drive, and confidence to succeed.
See your associates as an investment.
Provide positive and constructive feedback.
Talk about opportunities for advancement. Tie those discussions to performance, attendance, attitude, and safety metrics.
Give individual attention and encouragement.
Listen to your team and address each question, comment, and concern as quickly as possible.
Reward positive behavior.
Be more than a boss; be someone your team can rely on.
2. The Stay Interview
This is a fantastic opportunity to learn why current employees continue to work for your company. The Stay Interview is a proactive approach to uncover hidden issues, assess individual employee engagement, predict potential exits, and work to create desirable work environments. It also allows a safe space, free from the concern of any repercussions. The information you receive from the Stay Interview may be invaluable to your company and may result in lower turnover.
Sample Questions: Remember to keep your Stay Interviews simple; 3-5 questions are more than enough.
What do you look forward to when you come to work each day?
Would you refer a friend or family member to work here? Why?
If you could change anything about your job and/or company, what would it be?
What would you do differently if you were in charge?
When was the last time you thought of leaving? What prompted it?
What makes for a great day at work?
How do you like to be praised/recognized?
3. The Exit Interview
Unfortunately, some employees choose to leave no matter how hard you work to retain them. In this case, whether it is voluntary or involuntary, it is imperative to uncover the reasons behind their departure. The Exit Interview is a wrap-up meeting geared to identify opportunities for change within your organization.
Sample Questions:
What was the best part of your job here?
What circumstances prompted you to start looking for or considering another job?
Did you feel you had the training, tools, and resources to be successful in your role? If not, which areas could be improved upon?
Were there any company policies or procedures that made your job more difficult? If so, what were they?
Do you feel your job description changed since you were hired, and if so, in what ways?
Do you have any suggestions for improving employee morale?
Do you think management adequately recognized employee contributions? If not, what do you think could have been done differently?
Do you have any concerns about the company you'd like to share?
What can the organization improve on?
Employee Retention is key to creating a core team and the overall success of an organization. At Premier Employee solutions, we work hard to recruit, screen, and identify top talent for our valued clients. Equally important to finding top talent, is to retain those talented associates. Our client success manager wrote a blog post about employee retention that has some great information about this topic. You can find that post on our blog here.
We welcome the opportunity to work alongside you to address turnover and implement retention programs geared to increase employee communication, involvement, and overall satisfaction.
4. Employee Growth & Development Plan
Below is a general example of an employee growth & development plan, which is geared to increase both the employee's performance and compensation. The goal with this advancement plan is to periodically review and evaluate the employees production numbers, attitude, attendance, and overall contribution to the company. Depending on their ranking in each category; merit increases may determined.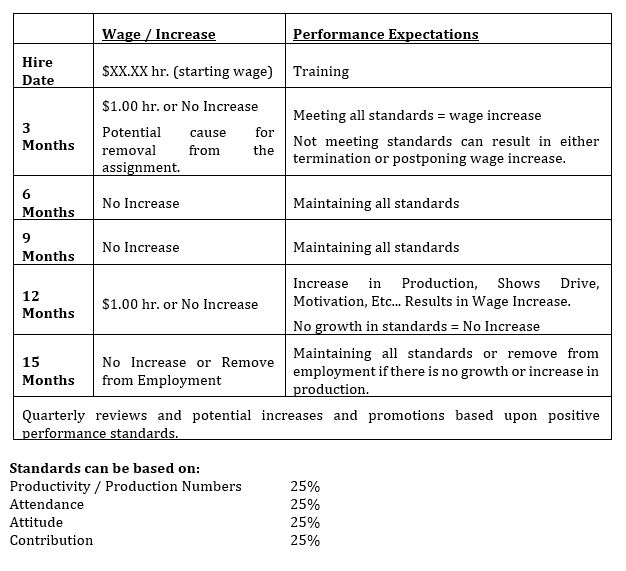 We are so much more than just your staffing provider. We are your partner to successful employment solutions.