Safety programs within the workplace are not only necessary, but vital for a safe and effective workforce. Employees want to know that they're working for a business that not only cares about their safety, but also will take measures to prevent accidents from happening. The key to a successful safety program begins with the executive team being on board with their support, but also a team that will execute the program once it has been put in place.
A Basic Program
The idea is to begin with a basic program and simple goals, and grow from there. Getting employees talking about safety, setting safety goals, and monitoring the outcomes will create a atmosphere of caution and care. A safety program also helps businesses in various ways like:
Preventing workplace injuries and illnesses
Advancing compliance with Federal laws, State laws and regulations
Reduction in workers' compensation premiums
Reduction in indirect costs of an injury; administrative, co-worker training, lost productivity, and/or equipment replacement or repair
Engaging employees in practicing safe working conditions
Increasing productivity within staff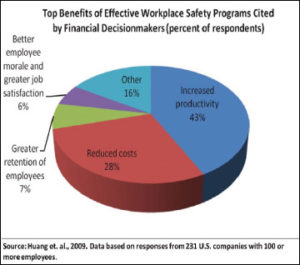 OSHA's Data
According to OSHA, "Currently, 34 U.S. states have established laws or regulations designed to require or encourage injury and illness prevention programs, including 15 states with mandatory regulations for all or some employers. Injury and illness prevention programs have been proven to help employers and society reduce the personal, financial and societal costs that injuries, illnesses and fatalities impose."
Reactive vs. Proactive
The typical safety program path is usually reactive. This means that a program is formed or enforced typically after a.) an employee is injured or falls ill, b.) when a new law or standard is required, or c.) an inspection finds an issue that needs to be fixed. This could mean that a "Lock Out/Tag Out" program is put in place after an OSHA audit was done at a place of business. Or, a guard is put on a grinding machine after an employee receives a finger laceration. Encouraging and executing a safety program proactively is the best way to approach the concept of keeping your employees safe. No matter how big or small your organization is, here are a few ideas to help create and enforce a safety program:
Create a safety team
Find employees that want to be involved with safety, and are eager to participate in a prevention program. Create the team, provide time for them to plan and meet, and choose people that are eager to execute a plan.
Choose a leader
If you don't have a specific safety manager on staff, find someone that is willing to take this challenge on, but also a team member that is known for getting things done. A safety program is a wonderful tool if it's used.
Utilize resources
Most worker's compensation carriers have resources to help either create a safety program or enhance an existing one. Safety meeting topics, resources, safety personnel, OSHA resources, and safety tools are just some of the things they might have available for use. They might even have training courses for free. In addition, OSHA has "OSHA Consult" in various areas that will come and give you an assessment of your level of safety without charge. It's helpful to know where the potential issues might be.
Encourage talk about near misses
Most employees are hesitant to talk about near misses, or accidents that almost happened. This is typically because employees are scared they will get in trouble if they talk about mistakes or potential injuries. This is an attitude that employers need to get away from; encouraging employees to talk about near misses is important when it comes to potential or future accidents. This is what helps safety managers decide what topics to discuss in meetings, or what to keep an eye on for future concerns. Near misses become future accidents.
Find and fix
The find and fix approach to workplace hazards helps identify potential accidents as well. Knowing what to look for is key, but also creating a plan with upper management to fix the hazards is important.
Conclusion
"OSHA believes that adoption of injury and illness prevention programs based on simple, sound, proven principles will help millions of U.S. businesses improve their compliance with existing laws and regulations, decrease the incidence of workplace injuries and illnesses, reduce costs (including significant reductions in workers' compensation premiums) and enhance their overall business operations." Source: OSHA.com
"There are many benefits from developing a safety culture at your company – none of which is more valuable than employee loyalty. When employees know you care about their personal well-being and you prove that to them in their workplace, it increases morale, engagement, awareness, motivation and productivity."
– Daniel R. Nobbe, Plant Leader, Fiberteq LLC, Danville, IL.
Source: National Safety Council.